AUTUMN 2019
Ms Aisling Culhane Research & Development Advisor PNA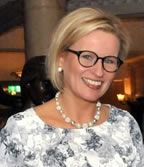 The PNA believe that life-long learning and continuing professional development (CPD) is a valued component of nurses' professional practice and supports the effectiveness of the nursing contribution through the development and promotion of knowledge. We strongly believe that knowledgeable nurses strengthen the quality of safe clinical practice and directly enhance service user experience and transform evidence into action. The PNA, uniquely positioned as both a professional body and trade union, aims to safeguard and enrich member's experience.
In enhancing our benefits to you, our members, we have completed a Needs Analysis of your CPD needs and sincere thanks to all of you- across the country- who participated in both the survey and the focus groups.
The analysis identified your priority areas and three Masterclasses were delivered in the following areas- Quality Clinical Learning Environment, Documentation and Care Planning and Medication Management.
All programmes will be delivered in the RCSI, St Stephen's Green, Dublin 2. Time: 9:30 - 16:30
A minimum number of 8 participants required for programme delivery. Programme costs: €70 per person
These programmes have been developed specifically for our members and the following characteristics are evident across all of our programmes:
Underpinned by values emphasising safety, quality and excellence in service delivery

Accredited by the Nursing & Midwifery Board of Ireland (NMBI)

Developed in collaboration with and facilitated by practising clinical and/or subject matter experts

Facilitated in a participative and interactive manner

Assist with the application of knowledge to the real world of practice

Evaluated on completion of each programme
For more details on our CPD Programmes please contact Ms Elayne Melia on +353 045 852300