CPD PROGRAMMES FEBRUARY-MAY 2020
Ms Aisling Culhane Research & Development Advisor PNA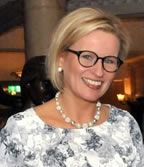 I am delighted to present our new CPD Programme for February - May 2020. This programme provides a suite of clinical and professional development programmes to build on and enhance your knowledge and confidence. Following consultation with our members, we are particularly pleased to facilitate enhanced access to our programmes with new, regional programme delivery, in response to your feedback. I hope that you available of the opportunity to network and share learning with colleagues and engage with expert facilitators.
Nearly all programmes will be delivered in the RCSI, St Stephen's Green, Dublin 2. Time: 9:30 - 16:30 but please check the course detail for any changes.
A minimum number of 8 participants required for programme delivery. Programme costs: One Day Courses - €70 per person. Two Day Courses - €140 per person.
For more details on our CPD Programmes please contact Ms Elayne Melia on +353 045 852300