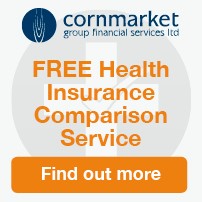 As the cost of private health insurance continues to spiral and now with even more plans on the market to choose from, it is becoming much more difficult to compare and get the best deal.
Cornmarket offers a FREE health insurance comparison service. They are the largest health insurance broker in Ireland and in one short phone call, their team of experts will alleviate the headache of trawling through hundreds of health insurance plans and will be able to do the following:
•  Complete a brief analysis of your requirements to establish exactly what type of cover you need for you/your family
•  Compare all 4 health insurers on the market based on your requirements (Aviva Health, Laya Healthcare, GloHealth and VHI Healthcare)
•  Offer free impartial advice including a full explanation of all product differentials
•  Find the best plan for you at the best possible price.
For more information on health insurance, click here http://www.cornmarket.ie/product/health-insurance/pna?utm_source=pnaweb&utm_medium=text&utm_campaign=pnawebtextapril14 or call (01) 408 6216
Cornmarket Group Financial Services Ltd. is regulated by the Central Bank of Ireland . A member of the Irish Life Group Ltd. Telephone calls may be recorded for quality control and training purposes.