Member Benefits

Dear Cornmarket Member,
I hope you and your family are keeping well in these unprecedented times. As we all adjust to the changes to our lives, I wanted to get in touch to assure you that everyone in Cornmarket is here to help you, and all our customers, in any way we can.
We have been looking after the financial and insurance needs of public sector employees for almost 50 years. This is a role we are very proud to hold. Like the entire country, we are so grateful for everything you are doing at the moment. Thank you to the healthcare and front line workers who are working tirelessly during this crisis.
Upcoming events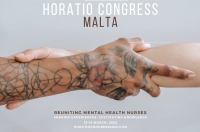 REUNITING MENTAL HEALTH NURSES
The Horatio Congress of Psychiatric Nursing: 'Reuniting Mental Health Nurses' Sharing Experiences, Cultivating Knowledge' will be taking place in Malta, at the Marriott Hotel, Balluta Bay between Monday 13th and Tuesday 14th of March 2023.